Sales Manager (Remote)
The Company:
Axle is the all-in-one financial services platform that is rapidly disrupting the $250 billion freight intermediary market. Its proprietary technology allows freight brokers to simplify their financing operations and easily access the working capital they need to grow. Axle automates invoicing, collections, and payments - ultimately delivering a better customer experience. A remote-first company, Axle has been named a Best Place To Work by Built In.
What Inspires You:
Passionate about unlocking the potential of others by focusing on their strengths. 
Excited about helping craft compelling business proposals that excite buyers. 
Have a passion for mentoring. 
Obsessed with accurate pipeline forecasting. 
What You'll Do: 
Mentor and coach individual sales representatives one-on-one through phone work and prospecting help sessions to help them improve sales performance.
Develop and train the team on new sales strategies to acquire new customers or clients. 
Ensure our sales pitch and sales process is well aligned and positioned relative to competitors and industry trends.
Set a good example for the team. Work according to the company culture and values, prioritize projects, use good communication, and deliver results effectively. 
Unite the team and ensure reps work as a positive unit and share their best practices. Maintain a strong sales culture and overall team morale.
Conduct deep-dive interviews for new sales candidates, hire new representatives, run new hire orientations, and conduct training sessions. 
Maintain a deep understanding of customer needs and monitor their preferences. 
Provide expertise when setting and adjusting pricing plans and discounted rates. 
What We're Looking for: 
1+ years of sales management experience
3+ years of sales experience
Proven track record of success within a sales cycle from plan to close. 
Has a background in factoring, SaaS, fintech, etc. 
Specialized knowledge in logistics or transportation
Bonus points:
Has been at an early stage tech company
Has experience working with Hubspot or similar CRM
Unbelievable Benefits and Perks
Fully remote work by design
Company laptop; $1,000 home office build-out allowance
$50/month mobile phone / $75/month Wi-Fi allowances
Unlimited paid time off (PTO)
Generous parental leave policy
100% PAID medical, dental and vision insurance for employees
Short term disability; long term disability; life insurance
401k with potential future employer match
$100/month wellness allowance
$1,000/year professional development allowance
$100/year philanthropy match to employee donations
Quarterly in-person retreats for fun and learning
Generous option (equity) grant opportunities
We Celebrate Diversity, Camaraderie and Growth
Axle's culture embraces curiosity, collaboration and continual improvement. We strive to maintain an environment that's friendly, inclusive and mutually supportive. We earn great employee reviews because we care about your professional growth and personal happiness. And we honor each individual's uniqueness and contributions. We don't just accept people's differences. We celebrate them. Axle is an equal opportunity workplace and an equal opportunity employer.
Compensation Range: 
Base: $80,000- $105,000 equating $140,000 - $162,000 all in
Axle believes in providing pay transparency to all candidates. For annual compensation, our pay ranges for all roles are based on geographic location, job responsibilities and experience, benchmarked against similar stage companies in our industry. We share salary ranges on all job postings regardless of desired hiring location. Every final offer presented is determined by several components including location as well as candidate experience and skills, and could alter from the amounts listed above.
Apply
Your application has been successfully submitted.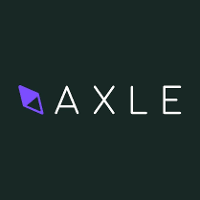 All-in-One Financial Platform for Modern Freight Brokers