Senior Product Manager (Remote)
The Company:
Axle keeps the supply chain moving by providing a modern payments platform for the logistics industry. Hundreds of freight brokers trust Axle to manage their working capital, payments, and back office processes.
Axle is backed by some of the top freight- and fintech investors in the world, including Crosslink Capital, Anthemis, Techstars, Trucks VC, Flexport, and FJ Labs. We're processing $20M+ in payments each month and growing over 4.5x year over year.
The Role:
As a Senior Product Manager, you'll join our Product team to lead a new business line for one of our key growth areas. You will put your skills to use on building great product, optimizing processes and delivering measurable outcomes for the business. You'll be working throughout the product lifecycle, engaging directly with sales, marketing, operations, engineering and product leadership to ensure Axle is top of market. Your impact here is directly attributable to Axle's business performance and enterprise value.
What Excites You:
Problem Solving - You want to solve real world problems for real customers, you want to get into the details on the solution and not leave issues at face value
Value Creation - You are not interested in checking the box, you want to see change and real value created from what you're shipping
Autonomy - You are looking to lead your squad and are looking for the opportunity to work with your team independently
Collaboration - You thrive working cross-functionally, especially when it comes to understanding the business needs and seeing it through to reality
Full Lifecycle - You are excited by taking strategic objectives, or business needs, and seeing them all the way through
What Excites Us:
You are an experience professional with 8+ years in the workforce full-time
You have been in a product manager or product owner role for 3+ years where features and improvements were constantly shipped, bonus points involving transportation or finTech
You have a growth mindset, looking to optimize for business value and revenue
You're obsessively detail-oriented, but able to step away from the details to focus on the big picture
You have the ability to negotiate requirements and project milestones with peers and management in a confident and compelling manner
You are able to quantify real impact from the features or whole products you're shipping on the business
You thrive in a fast-paced, high pressure, start-up culture with great ambitions
What We Offer:
Competitive Pay + Generous Option Grant
Unlimited PTO
Fully Remote with Quarterly In-Person Retreats
Home Office Build-Out Allowance
Professional Development Budget
Healthcare Reimbursement for Premiums and Medical/Dental/Vision Expenses
Phone and Internet Reimbursement
Wellness/Gym Reimbursement
401K Program
Philanthropy Match
Compensation Range: 
$110,000-$150,000
Axle believes in providing pay transparency to all candidates. For annual compensation, our pay ranges for all roles are based on geographic location, job responsibilities and experience, benchmarked against similar stage companies in our industry. We share salary ranges on all job postings regardless of desired hiring location. Every final offer presented is determined by several components including location as well as candidate experience and skills, and could alter from the amounts listed above.
We see Axle as a constant work in progress, and the same is true of our people: for all of us, we believe the best is yet to come. We want to work in the company of warm, inclusive people who treat their colleagues exceptionally well. The kind of people who are committed to going out of their way to help others in the short-term and to push them to grow over the long-term.
At Axle, we don't just accept our differences. We celebrate them. Axle is proud to be an equal opportunity workplace and an equal opportunity employer.
Apply
Your application has been successfully submitted.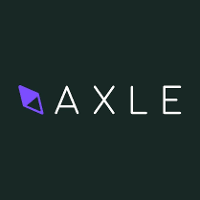 All-in-One Financial Platform for Modern Freight Brokers