Full-Stack Software Engineer (Remote)
The Company:
Axle is the all-in-one financial services platform that is rapidly disrupting the $250 billion freight intermediary market. Its proprietary technology allows freight brokers to simplify their financing operations and easily access the working capital they need to grow. Axle automates invoicing, collections, and payments - ultimately delivering a better customer experience. A remote-first company, Axle has been named a Best Place To Work by Built In.
The Opportunity:
As a Full Stack Engineer, you will be responsible for building the critical infrastructure to process transactions, internal automation tools to streamline payments, and underlying functionality for features our clients love. You'll not only be enhancing existing functionality, but also have the opportunity to build new products that will be instrumental to our continued growth.  
What Excites You: 
You love creating beautiful and engaging user experiences by leveraging your ability to work across the entire application stack. 
You are passionate about working with a team of designers, engineers and customers to figure out elegant solutions for complicated customer problems. 
You have a passion for continual learning and team communication, as well as listening to the customer to create a great experience.
You're transparent and believe that open communication is critical for team success.
You want to work with a collaborative team that supports each other and helps each other grow. 
What Excites Us:
You're a curious, scrappy, highly motivated innovator who is excited about diving into a high-growth startup and taking ownership of important customer-facing features.
You're a solid developer who obsesses over writing clean, maintainable, well-tested code that delights your users.
You have strong opinions about testing and accept nothing less than 80% coverage.
You aren't scared of coding up a REST or GraphQL API. Bonus points if you've ever built an API in Elixir or other functional programming languages
You aren't intimidated by relational databases and know how to write SQL queries (or find the answer if you need to)
You value autonomy and are excited about joining a team that values personal growth, professional development, and career progression
Your peers see you as an avid team player who lives by the philosophy that the whole is greater than the sum of its parts
Experience supporting and scaling Elixir applications is a plus.
Experience working with B2B software products. 
Freight and Fintech experience is a plus. 
What We Offer: 
Competitive Pay + Generous Option Grant 
Unlimited PTO
Fully Remote with Quarterly In-Person Retreats 
Home Office Build-Out Allowance
Professional Development Budget
Healthcare Coverage Medical/Dental/Vision Expenses
Phone and Internet Reimbursement
Wellness/Gym Reimbursement
401K Program
Philanthropy- Axle will match employee donations up to $100 each year
Compensation Range: 
$138,000-$180,000
Axle believes in providing pay transparency to all candidates. For annual compensation, our pay ranges for all roles are based on geographic location, job responsibilities and experience, benchmarked against similar stage companies in our industry. We share salary ranges on all job postings regardless of desired hiring location. Every final offer presented is determined by several components including location as well as candidate experience and skills, and could alter from the amounts listed above.
We have unlimited PTO, and we mean it! We incentivize employees taking at least 3 day off each quarter, and require each employee to take a minimum of 5 consecutive days off each year.
We see Axle as a constant work in progress, and the same is true of our people: for all of us, we believe the best is yet to come. We want to work in the company of warm, inclusive people who treat their colleagues exceptionally well. The kind of people who are committed to going out of their way to help others in the short-term and to push them to grow over the long-term.
At Axle, we don't just accept our differences. We celebrate them. Axle is proud to be an equal opportunity workplace and an equal opportunity employer.
Apply
Your application has been successfully submitted.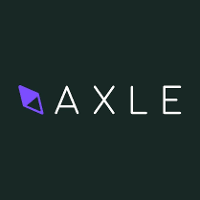 All-in-One Financial Platform for Modern Freight Brokers