Account Executive
The Company:
Axle is the all-in-one financial services platform that is rapidly disrupting the $250 billion freight intermediary market. Its proprietary technology allows freight brokers to simplify their financing operations and easily access the working capital they need to grow. Axle automates invoicing, collections, and payments - ultimately delivering a better customer experience. A remote-first company, Axle has been named a Best Place To Work by Built In.
The Role:
As an Account Executive, you'll play the leading role in establishing and developing client relationships and and strive to deliver more revenue for the business.
What excites you: 
Having the ability to help people grow their business is extremely rewarding.
Believe in our product and the impact it makes on small transportation businesses
Being a part true team environment where supporting departments work together hand-in-hand.
As an AE you have a 'voice' for what you're selling. Your feedback is extremely valuable to the development of new and existing products.
What you'll bring:
3+ years of previous sales experience in freight brokerage or logistics, factoring, carrier, or freight technology/software
What you'll do:
We're looking for an Account Executive to join our growing team. We're fully remote (always have been, always will be) so no need to worry about relocating.
Prospecting and cold calling prospective start-up and established brokers
Following up with inbound leads through phone calls and emails
Management of the sales process from beginning to end
Detailed descriptions and documentation of contacts and accounts within CRM
Educating clients on Axle's platform, services and customer onboarding
Collaborate across organization (internal sales team, product, and operations) to help close more deals and provide insight on feedback from clients
Email content and targeted monthly pieces based on client needs
90 day on-ramp: We want to set you up for success. You will be bonus eligible from Day 1 while learning the basics of Axle, our industry, our product, and our sales process. Some will finish sooner, but most BDOs like to take the full 90 days to learn our business from top-to-bottom - and then they hit the ground at a full sprint!
What We Offer: 
Competitive Pay + Generous Option Grant 
Unlimited PTO
Fully Remote with Quarterly In-Person Retreats 
Home Office Build-Out Allowance
Professional Development Budget
Healthcare Coverage Medical/Dental/Vision Expenses
Phone and Internet Reimbursement
Wellness/Gym Reimbursement
401K Program
We have unlimited PTO, and we mean it! We incentivize employees taking at least 3 day off each quarter, and require each employee to take a minimum of 5 consecutive days off each year.
We see Axle as a constant work in progress, and the same is true of our people: for all of us, we believe the best is yet to come. We want to work in the company of warm, inclusive people who treat their colleagues exceptionally well. The kind of people who are committed to going out of their way to help others in the short-term and to push them to grow over the long-term.
At Axle, we don't just accept our differences. We celebrate them. Axle is proud to be an equal opportunity workplace and an equal opportunity employer.
Apply
Your application has been successfully submitted.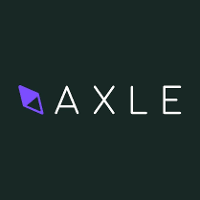 All-in-One Financial Platform for Modern Freight Brokers