Product Designer
The Company:
Axle is the all-in-one financial services platform that is rapidly disrupting the $250 billion freight intermediary market. Its proprietary technology allows freight brokers to simplify their financing operations and easily access the working capital they need to grow. Axle automates invoicing, collections, and payments - ultimately delivering a better customer experience. A remote-first company, Axle has been named a Best Place To Work by Built In.
The Role:
Axle is looking for a Product Designer to take our platform's user experience and interface to new heights. Your focus will be on the web-based end-user experience and work closely with the Engineering and Product teams. This is a rare opportunity to have an outsized impact as a design leader in a field that we're actively disrupting. You'll be a key part of a small design team working on high-visibility initiatives in a well-funded, growing startup. You'll work in a multidisciplinary environment where you'll be challenged to learn a lot, embrace complexity, think holistically, share and contribute on many levels, and play an important role in building something amazing.
What Excites You:
Collaboration - You thrive working cross-functionally, especially when it comes to understanding the business needs and seeing it through to reality.
Full Lifecycle - You are excited by taking strategic objectives, or business needs, and seeing them all the way through
Value Creation - You are not interested in checking the box, you want to see real change and real value created from what you're designing.
Meeting and Interacting with Customers - It's not enough to read a report, you're excited about seeing things through the eyes of an end-user.
Wrapping your head around a complex problem that took a while to solve and being a master in that domain.
What Excites Us:
You're experienced in working with enterprise software.
You're detail-oriented, yet able to step away from the details to focus on the big picture
You have the ability to see beyond what stakeholders tell us directly and dig deep to uncover the why behind their needs.
You're able to gain insights from quantitative data and use it to drive design decisions and proposals for new features.
You are able to quantify real impact from the features or whole products you're shipping on the business
You thrive in a fast-paced, high pressure, start-up culture with great ambitions
What We Offer: 
Competitive Pay + Generous Option Grant 
Unlimited PTO
Fully Remote with Quarterly In-Person Retreats 
Home Office Build-Out Allowance
Professional Development Budget
Healthcare Coverage Medical/Dental/Vision Expenses
Phone and Internet Reimbursement
Wellness/Gym Reimbursement
401K Program
We have unlimited PTO, and we mean it! We incentivize employees taking at least 3 day off each quarter, and require each employee to take a minimum of 5 consecutive days off each year.
We see Axle as a constant work in progress, and the same is true of our people: for all of us, we believe the best is yet to come. We want to work in the company of warm, inclusive people who treat their colleagues exceptionally well. The kind of people who are committed to going out of their way to help others in the short-term and to push them to grow over the long-term.
At Axle, we don't just accept our differences. We celebrate them. Axle is proud to be an equal opportunity workplace and an equal opportunity employer.
Apply
Your application has been successfully submitted.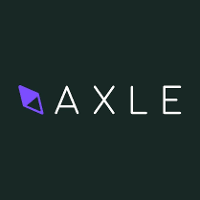 All-in-One Financial Platform for Modern Freight Brokers