Digital Content Marketing Manager
The Company:
Axle is the all-in-one financial services platform that is rapidly disrupting the $250 billion freight intermediary market. Its proprietary technology allows freight brokers to simplify their financing operations and easily access the working capital they need to grow. Axle automates invoicing, collections, and payments - ultimately delivering a better customer experience. A remote-first company, Axle has been named a Best Place To Work by Built In.
What Excites You:
You love to tell a story. You are excited about learning the logistics industry (wider than just broker factoring) and how to communicate in ways that inspire & educate. 
You value digital strategy in writing, and see optimizing messaging around digital best practices (google seo), as an attractive challenge. 
You are obsessed with the changing SEO landscape and how to get your content a leading role. 
You are not afraid to write, write, and re-write some more.
What You'll Do: 
Tell the Axle story; Work with the head of marketing to build a content marketing plan, including keyword & trend analysis, to grow thought-leadership and demand gen resources
Contribute to content production by writing blogs, case studies, infographics, web & landing pages, and other collateral
Work with 3rd party writers & creators to scale Axle's output of content
Respond to content opportunities from treds, events, and the social zeitgeist
Own SEO of Axle's website, blog, and digital marketing
Monitor ranking of content on Axle's website & blog, refresh and optimize content based on learnings and changes in best practices 
Manage internal content calendar & library 
Ensure inter-departmental awareness of marketing assets and upcoming activities
What You've Done:
3-5 years of experience
Titles; Content marketing, digital marketing, content writer
Has a background in factoring, SaaS, fin tech, B2B tech 
Has written mid and or long form content for b2b tech and or logistics
Provide a portfolio of writing examples - specifically factoring or b2b sass tech.  
Nice to have Certifications: Google Analytics, Hubspot
Bonus points:
Has been at an early stage tech company
Has experience working with Hubspot, Google Analytics, Wordpress, Anything SEO optimization-wise
What We Offer: 
Competitive Pay + Generous Option Grant 
Unlimited PTO
Fully Remote with Quarterly In-Person Retreats 
Home Office Build-Out Allowance
Professional Development Budget
Healthcare Coverage Medical/Dental/Vision Expenses
Phone and Internet Reimbursement
Wellness/Gym Reimbursement
401K Program
We have unlimited PTO, and we mean it! We incentivize employees taking at least 3 day off each quarter, and require each employee to take a minimum of 5 consecutive days off each year.
We see Axle as a constant work in progress, and the same is true of our people: for all of us, we believe the best is yet to come. We want to work in the company of warm, inclusive people who treat their colleagues exceptionally well. The kind of people who are committed to going out of their way to help others in the short-term and to push them to grow over the long-term.
At Axle, we don't just accept our differences. We celebrate them. Axle is proud to be an equal opportunity workplace and an equal opportunity employer.
Apply
Your application has been successfully submitted.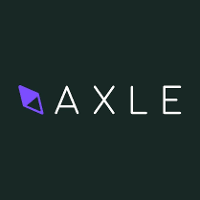 All-in-One Financial Platform for Modern Freight Brokers