Engineering Manager
The Company:
Axle is the all-in-one financial services platform that is rapidly disrupting the $250 billion freight intermediary market. Its proprietary technology allows freight brokers to simplify their financing operations and easily access the working capital they need to grow. Axle automates invoicing, collections, and payments - ultimately delivering a better customer experience. A remote-first company, Axle has been named a Best Place To Work by Built In.
The Company:
Axle keeps the supply chain moving by providing a modern payments platform for the logistics industry. Hundreds of freight brokers trust Axle to manage their working capital, payments, and back office processes.
We're processing $20M+ in payments each month and growing over 500% year over year, and we're backed by some of the top freight- and fintech investors in the world, including Crosslink Capital, Anthemis, Techstars, Trucks VC, Flexport, and FJ La
The Opportunity
As an Engineering Manager, you will be responsible for leading teams of talented, autonomous software engineers in the development of features to support Axle's goal of becoming the number one payments platform for the freight industry. You will be responsible for building, mentoring, and retaining word-class engineers and motivating them to achieve highly ambitious goals. 
What Excites You
You are passionate about using technology to improve people's lives.
You're able to make critical, data-driven decisions.
You are curious about new technologies and can pick them up quickly.
You're highly-skilled at prioritizing value and shipping complex products requiring coordination across multiple teams.
You are committed to building a world-class software engineering organization that recruits the best and brightest engineers, product managers, and architects.
You have a passion for continuous learning and professional growth and are able to give and receive objective feedback.
You're transparent and believe that open communication is critical for team success.
You want to work with a collaborative team that supports each other and helps each other grow. 
What Excites Us
You're a curious, scrappy, highly motivated innovator who is excited about diving into a high-growth startup and taking ownership of delivering valuable customer-facing features.
You have experience building teams of engineers to deliver consumer-facing features in a high-growth environment
You demonstrate tactfulness and leadership to bring about changes to organizational strategy and engineering growth while maintaining clear focus on the company's vision and mission.
You love to mentor engineers with varying skill levels and experiences.
Experience working with B2B software products. 
Freight and Fintech experience is a plus. 
We have unlimited PTO, and we mean it! We incentivize employees taking at least 3 day off each quarter, and require each employee to take a minimum of 5 consecutive days off each year.
We see Axle as a constant work in progress, and the same is true of our people: for all of us, we believe the best is yet to come. We want to work in the company of warm, inclusive people who treat their colleagues exceptionally well. The kind of people who are committed to going out of their way to help others in the short-term and to push them to grow over the long-term.
At Axle, we don't just accept our differences. We celebrate them. Axle is proud to be an equal opportunity workplace and an equal opportunity employer.
Apply
Your application has been successfully submitted.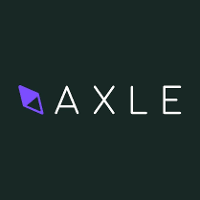 All-in-One Financial Platform for Modern Freight Brokers