Product Marketing Manager
This job is no longer accepting applications.
The Company:
Axle keeps the supply chain moving by providing a modern payments platform for the logistics industry. Hundreds of freight brokers trust Axle to manage their working capital, payments, and back office processes.
Axle is backed by some of the top freight- and fintech investors in the world, including Crosslink Capital, Anthemis, Techstars, Trucks VC, Flexport, and FJ Labs. We're processing $20M+ in payments each month and growing over 4.5x year over year.
The Role:
As a Product Marketing Manager, you'll join our Product team to put your passion for customers (current and future) to work. You'll be leading market research, our product knowledge base and the public launch of new products with the rest of the Axle team by your side. Your insights will be critical to ensure we're building products that hit on our customers' most crucial value propositions in our most important segments.
What Excites You:
Market Research: You can see the big picture, and you aren't afraid to dig in on customer, market and competitive research to figure out the biggest problems plaguing the industry
Helping Sales Win: You get pumped when the team closes deals, and you like to work hand-in-hand with the revenue teams to arm your colleagues in the market with the best messages and collateral for success
Helping Customers Succeed: You love it when customers self discover and solve their own problems on their own with aids and messages you've launched
Direct Customer Access: You want to "see for yourself" and are OK with being engaged with customers, either virtually with reviews or surveys; or in real life with the customer advisory board or panel discussions
Launch Days: You feel the energy in the air on a launch day, and enjoy being in the center of a public launch with press releases, all-hands, training sessions, countdowns and more.
What Excites Us:
At least 6 years of professional experience with 3+ years of B2B product marketing experience
You have been responsible for creating, driving, and managing go-to-market plans across all channels
Previous experience in marketing, customer success, product management or sales enablement
Ideal background in a high-growth startup, FinTech and/or B2B SaaS
What We Offer:
Competitive Pay + Generous Option Grant
Unlimited PTO
Fully Remote with Quarterly In-Person Retreats
Home Office Build-Out Allowance
Professional Development Budget
Healthcare Reimbursement for Premiums and Medical/Dental/Vision Expenses
Phone and Internet Reimbursement
Wellness/Gym Reimbursement
401K Program
We have unlimited PTO, and we mean it! We incentivize employees taking at least 3 day off each quarter, and require each employee to take a minimum of 5 consecutive days off each year.
We see Axle as a constant work in progress, and the same is true of our people: for all of us, we believe the best is yet to come. We want to work in the company of warm, inclusive people who treat their colleagues exceptionally well. The kind of people who are committed to going out of their way to help others in the short-term and to push them to grow over the long-term.
At Axle, we don't just accept our differences. We celebrate them. Axle is proud to be an equal opportunity workplace and an equal opportunity employer.
Apply
Your application has been successfully submitted.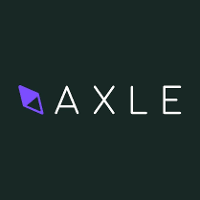 All-in-One Financial Platform for Modern Freight Brokers