Head of Regulatory, Legal and Compliance
This job is no longer accepting applications.
The Company:
Axle keeps the supply chain moving by providing a modern payments platform for the logistics industry. Hundreds of freight brokers trust Axle to manage their working capital, payments, and back office processes.
Axle is backed by some of the top freight- and fintech investors in the world, including Crosslink Capital, Anthemis, Techstars, Trucks VC, Flexport, and FJ Labs. We're processing $20M+ in payments each month and growing 4.5x year over year.
What Excites You: 
Managing the exciting regulatory, compliance and legal journey of a fast growing fintech start-up
Creative problem solving to drive the optimal regulatory, compliance and legal structure as we continue to grow the business
Spearheading key regulatory, compliance and legal projects to ensure the ongoing business and new product offerings are at the highest standards
Being a critical member of the Axle team and thriving in a fun, fast-paced, high energy environment
What Excites Us: 
8+ years of experience in a regulatory, compliance or legal department
Currently head of regulatory, compliance or legal function at a fintech company
Background in the fintech industry (lending, banking, payments)
Experience with commercial lending and money transmitter requirements
Experience with state and federal regulatory, compliance and legal guidelines
Experience creating the regulatory, compliance and legal infrastructure for new product offerings
Experience handling legal / compliance workflows between founders/executive team and the board as well as assisting on debt and equity capital raises
Experience reviewing and negotiating key contracts / NDAs across the organization
Benefits and Perks:
Fully remote work by design
Quarterly in-person retreats
Unlimited paid time off
Medical, dental, & vision
Mental and physical wellness stipend
Generous option (equity) grant
Professional development reimbursements
We have unlimited PTO, and we mean it! We incentivize employees taking at least 3 day off each quarter, and require each employee to take a minimum of 5 consecutive days off each year.
We see Axle as a constant work in progress, and the same is true of our people: for all of us, we believe the best is yet to come. We want to work in the company of warm, inclusive people who treat their colleagues exceptionally well. The kind of people who are committed to going out of their way to help others in the short-term and to push them to grow over the long-term.
At Axle, we don't just accept our differences. We celebrate them. Axle is proud to be an equal opportunity workplace and an equal opportunity employer.
Apply
Your application has been successfully submitted.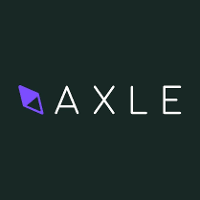 All-in-One Financial Platform for Modern Freight Brokers