Partnership Sales Manager
The Company:
Axle keeps the supply chain moving by providing a modern payments platform for the logistics industry. Hundreds of freight brokers trust Axle to manage their working capital, payments, and back office processes.
We're processing $20M+ in payments each month and growing over 500% year over year, and we're backed by some of the top freight- and fintech investors in the world, including Crosslink Capital, Anthemis, Techstars, Trucks VC, Flexport, and FJ Labs.
What excites you:
Building and working with people to solve many different problems for prospective clients 
The challenge of a skeptical customer, being a champion and able to provide them with the knowledge and understanding to help them learn why the product would benefit them.
The desire to beat your own personal records, the goal of bigger deals drives you 
What you'll do: 
Establish channel partnership strategy aligned with 
Build systematic partnership sales and partnership management processes 
Research partners, identify key players and generate interest
Identify, source and develop new partnerships in a variety of formats e.g. integration, referral and solution partnership
Lead the negotiation, close and onboarding of new partnerships working across the organization
Manage partnership success, including referral performance and commissions 
Launch collaborative efforts with partners, including marketing, press, training and integrations
The experience you'll bring: 
3+ years of experience in channel partnerships and or enterprise sales 
Has a background in SaaS, fin tech, etc. 
Transportation background would be a plus
Factoring background would be a plus
What We Offer: 
Competitive Pay + Generous Option Grant 
Unlimited PTO
Fully Remote with Quarterly In-Person Retreats 
Home Office Build-Out Allowance
Professional Development Budget
Healthcare Reimbursement for Premiums and Medical/Dental/Vision Expenses
Phone and Internet Reimbursement
Wellness/Gym Reimbursement
401K Program
We see Axle as a constant work in progress, and the same is true of our people: for all of us, we believe the best is yet to come. We want to work in the company of warm, inclusive people who treat their colleagues exceptionally well. The kind of people who are committed to going out of their way to help others in the short-term and to push them to grow over the long-term.
At Axle, we don't just accept our differences. We celebrate them. Axle is proud to be an equal opportunity workplace and an equal opportunity employer.
Apply
Your application has been successfully submitted.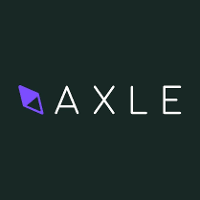 All-in-One Financial Platform for Modern Freight Brokers